---
My 1991 Mustang GT
---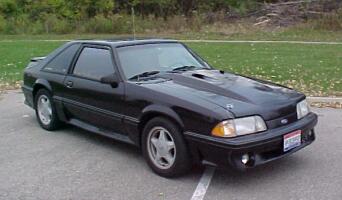 I bought this car with 212,000 miles on it. The rear quarter panels had some surface rust that had to be repaired, but the doors, hatch, and underneath were exceptionally clean. The engine was all original with the exception of the Pro-M MAS.

At 225,000 miles, I pulled the motor to install the new block I had waiting.


Motor
Brand new 302 Short block, bored 0.030
Ford Motorsports Windage Tray
F303 Camshaft
Edelbrock Performer RPM Alumminum Cylinder Heads
1.6 Alumminum Roller Rockers
Cobra Upper and lower intake, 5/8" Spacer
65 MM Throttle body
73 MM MAS
Fuel System
190 lph Fuel Pump
Accufab Adj Regulator
24# Injectors
Supension
Polyurethane Bushings, everywhere
Kenny Brown G-load brace
Custom Subframe Connectors
Custom Strut Tower Brace
Custom Upper and Lower Control Arms
Lowered Pickup points by 2"
Drivetrain
Spec Stage 2 Clutch
Rebuilt T-5
3.73 Rear End Ratio
Auburn Posi Unti